10/27/14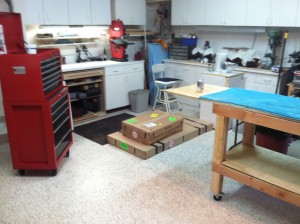 The empennage kit was ordered on October 16th, the Thursday before we left Michigan.  The kit  was shipped on the 20th and arrived in Florida three days later.   The boxes were kept closed while we finished construction of an EAA table.  A tool chest was found on Craigslist.  It was in good shape at a pawn shop.  Great deal.
Dolly has become "Chief Engineer" on the proect.  I couldn't wouldn't do it without her.
We unpacked Sunday evening the 25th.  Inventory started Monday morning.  We counted all the packages and parts, everything but the rivets.